RealIZM-Blog-Series "Integrative Circular Economy" – Part 2″
Most high-end smartphones have one thing in common – they all look very similar. Take any device from a leading manufacturer, and you will see a powerful camera, a large display, and generally angular features. They all have the same elements and components, in more or less the same place. However, we know that the actual needs of real-world smartphone users can differ greatly. In a world that is changing at an ever faster pace, where the ecological footprint of electronic devices is playing an increasingly important role, shouldn't smartphone design be more diverse and sustainable?
RealIZM spoke to Tapani Jokinen, design consultant at Fraunhofer IZM and founder of the TJ-Design consultancy, and Robin Hoske, research associate at Fraunhofer IZM, about this very topic. The two experienced industrial designers are involved in the BMBF-funded MoDeSt joint project on "Product circularity through modular design – strategies for durable smartphones". Their task was to develop visions for the future of sustainable product design for smartphones. The devices they propose are to be as durable as possible, repairable, retrofittable, and recyclable. In addition, they should be visually distinct from one another and offer a positive user experience.
In reference to the project's title "MoDeSt", the first concept of the two industrial designers is called MODEST CUBE. With this design, they show how the idea of modularity can be applied not only to individual components, but to the entire system of a smartphone. In the second part of the RealIZM blog series on the "Integrative Circular Economy", we present the design of the MODEST CUBE smartphone and give an insight into how the circular design process works.
Any design should start with a question: How and for what purpose will the device be used? "It was important to understand what challenges and issues users face on a daily basis," Tapani Jokinen explains. Based on the culture probes (everyday observations) collected in the MoDeSt project, as well as data evaluations on life cycle and environmental assessments of smartphones, the researchers identified what they call "hotspots" in smartphone use from the users' perspective.
These hotspots can vary depending on the type of user. One factor that plays a central role for all user groups is TIME. Whether it is the time spent on daily social media consumption, which could be a lot or only a little depending on types, or the time it takes to replace the display or battery or to service other hardware elements.
The challenge facing Tapani Jokinen and Robin Hoske was to come up with ideas for future smartphones that address the different needs of users and promise a positive user experience, while also extending the products' lifespan and minimizing their environmental impact. Modularity is a possible solution for quickly and easily swapping out or adapting hardware or software.
"Modularity only has a real advantage," Robin Hoske emphasizes, "if the total life expectancy and the actual working life of an electronic device ultimately become longer. The hardware plays just as important a role in this as the behavior and expectations of users. Certain variants of modularity that have not been fully thought through – e.g. repairs that users can, in theory, carry out themselves, but that are too complicated – can, under certain circumstances, lead to users being less willing to repair their devices and instead opt for a replacement."
The two industrial designers therefore had to rethink the concept of modularity. To do this, they drew on the expertise of the interdisciplinary research team involved in the collaborative project. "It was important for us to have experts from different disciplines – economics, environment, consumerism, and design – on board from the very beginning," Tapani Jokinen goes on to explain. Robin Hoske adds: "Often, industrial designers are brought in very late in the technology development process. Unfortunately, this then leads to problems that can easily be avoided if all departments work together from the beginning."
Numerous ideas were developed in a joint workshop. The best proposals were then taken further by Jokinen and Hoske in a design briefing, and initial visualizations were created for them.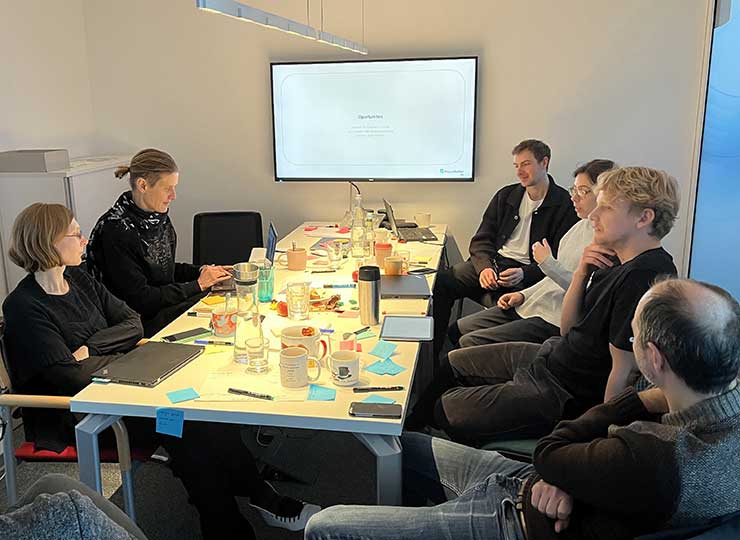 Workshop © Fraunhofer IZM 2023: Tapani Jokinen & Robin Hoske
Use case: Repairing, upgrading, and customizing hardware
Good product designs and services play a crucial role in overcoming sustainability challenges and contributing to a sustainable circular economy. "If we want to develop an economically and ecologically balanced concept for products, services, and service offerings, we combine design and environmental assessment methods with applied research. This way, we make sure to consider the users' needs as well as social and environmental challenges, and not just consider them, but develop actual solutions as well."
The design brief for the MODEST CUBE smartphone focused on the three themes of repairing, upgrading, and adapting the hardware. The thinking behind this was that the average lifespan of a current smartphone is only 2.5 years. For newer generation devices, it can be as low as 15 to 18 months. One of the main reasons for people choosing to buy a new smartphone is their battery life declining. The task Jokinen and Hoske set themselves was: What does a smartphone with a long service life look like?
Instead of the "one design fits all" solution, the two industrial designers rely on the "mix and match" principle. Interchangeable hardware modules should enable users to keep pace with the latest technological developments. The MODEST CUBE never becomes obsolete – that is the vision of the designers.
MODEST CUBE Cube sketch and schematic structure
© Fraunhofer IZM 2023: Tapani Jokinen & Robin Hoske
MODEST CUBE consists of four central units:
The 'head' which contains the motherboard, CPU/GPU processor, RAM, memory and camera,
the 'body', which contains the antenna, various connectors, microphones, and speakers,
the 'heart', which contains the battery, and
the display.
Each element can be replaced in a few steps or adapted to each user's requirements. Easily accessible modules make maintenance and repairs simple.
Broken displays and screens are among the most common types of damage with smartphones. For the first time, MODEST CUBE offers users the opportunity to replace the display themselves in just a few simple steps. This is possible because the front camera, speaker, and sensors are not integrated directly into the display, as was previously the case, but placed in a separate slot. The designers also provided a slightly higher display bezel as protection against accidental falls. Durable and traceable materials and components are also specifically designed for recycling and reuse. For example, the designers propose using 100% recycled PCR plastic monomaterial. This is suitable for recycling in new products and helps reduce waste.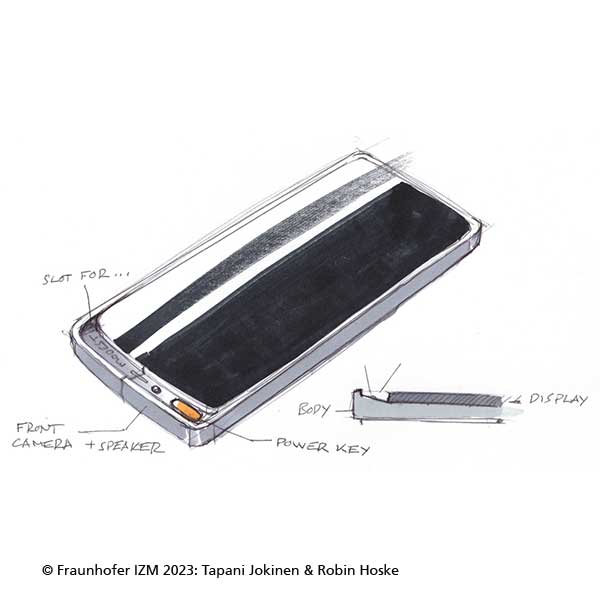 MODEST CUBE Sketch of the display and case
© Fraunhofer IZM 2023: Tapani Jokinen & Robin Hoske
With the MODEST CUBE, Jokinen and Hoske illustrate how e-waste can be minimized by preserving the value of the product and its components and materials. Furthermore, their design demonstrates how the product's useful life and total life expectancy could be maximized and its environmental impact reduced during its lifetime. This is achieved by making individual components upgradeable and repairable. If the camera no longer meets people's requirements, the "head" of the device is simply taken out and replaced. There is no need to buy a new device, saving money and resources at the same time. The design and construction of the main units also take into account different use cases. It is very likely, for example, that users will want to upgrade both the computing power and the integrated camera of their smartphone. Both elements are therefore combined in the "head".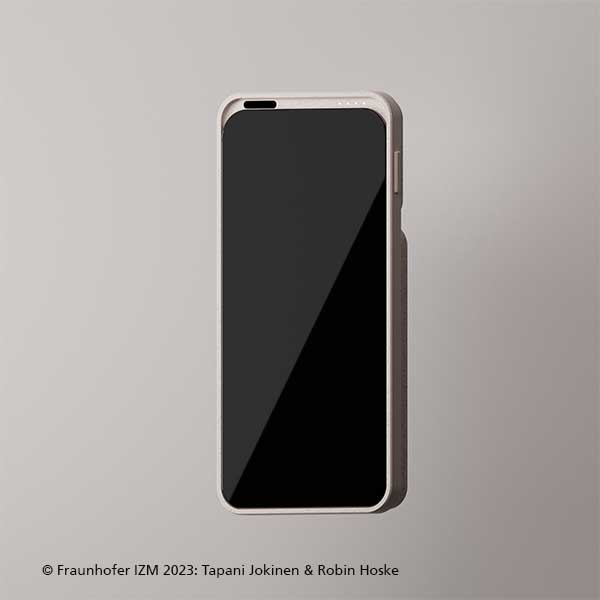 Front and back of MODEST CUBE
© Fraunhofer IZM 2023: Tapani Jokinen & Robin Hoske
The smartphone of the future: Modular and sustainable, yes – innovative design, no?
When asked about the very similar design of the MODEST CUBE to conventional smartphones, Hoske explains: "At the beginning, we tried out different shapes. We wanted to reinterpret the look of the smartphone. In the end, we went with today's normal common smartphone design for MODEST CUBE." He cites hardware requirements, such as the need for a docking port, as reasons for this. Another reason is that familiar shapes make repairs easier.
"Saving time is one of the most important reasons for users to buy a new smartphone. To speed up the upgrade and also the repair of their smartphones, we designed the four main components as packages. That is, they can be customized, but are installed as a whole."
That smartphones of the future do not necessarily have to be angular and oblong in shape is shown by Jokinen and Hoske with their second design concept. With the MODEST ARCH smartphone, they present an innovative idea that breaks new ground in terms of both form language and usage scenarios. We will explain how the design of the MODEST ARCH smartphone stands out from others in the third part of the RealIZM blog series "Integrative Circular Economy" on August 3, 2023.
The joint MoDeSt project was funded by the BMBF as part of the "Resource-efficient circular economy – Innovative product cycles (ReziProK)" initiative.

– Funding code: 033R231
– Duration: 01.07.2019 – 30.06.2022
– Participating partners: Fraunhofer IZM, TU Berlin (later BTU Cottbus-Senftenberg), Centre for Sustainability Management (CSM) of Leuphana University Lüneburg, Integrated Quality Design (IQD) of Johannes Kepler University Linz (associated), SHIFT GmbH and AfB gGmbH.
---
This could be interesting for you:
---
Subscribe to RealIZM Newsletter!
Get the latest insights into electronic-packaging and innovative technologies in microelectronics deliver