At the beginning of March, the ministry invited the project partners to the online conference "Green ICT 2023 – Sustainable Information and Communication Technologies". In the run-up to this conference, RealIZM spoke with Dr. phil. Lutz Stobbe, head of the "Green ICT @ FMD" project at Fraunhofer IZM, about how digital technologies can become greener in the future.
Led by the Research Fab Microelectronics Germany, a group of Fraunhofer and Leibniz institutes formed last summer to pool their competences for the "Green ICT @ FMD" research project commissioned by the Federal Ministry of Education and Research. Their mission: To contribute to reducing the carbon footprint of digital technologies in Germany and Europe through research and development.
The "Green ICT @ FMD" project has chosen "Competence Center for Resource-Conscious ICT" as its motto. How exactly is Fraunhofer IZM contributing to making electronics as energy and resource efficient as possible?
Dr. phil. Lutz Stobbe: In essence, the Fraunhofer institutes are developing new technologies, features, and processes that are already more energy efficient as a rule. In the "Green ICT @ FMD" project, we are trying to evaluate and present the technical expertise of our institutes from the ecological perspective.
Instead of developing new processes and systems, we are putting existing technologies as well as our laboratory and test facilities to the test in terms of their energy and resource efficiency. The basic thinking is to combine all technical innovation with environmental evaluations. One of the key ambitions of our project is to develop a model system for the eco-assessments of electronics.
"Green" is only that which is demonstrably "green". That means, you have to be able to quantify things. In order to reduce the carbon footprint sustainably in the long term, we need to measure things precisely during manufacturing and understand where and how energy or resources could be used even more efficiently.

Instead of focusing only on technological advances, as we have done in the past, our goal is to also assess and accurately quantify their environmental impact. If we can use a simplified life cycle assessment to show how technical progress in a project affects its ecological footprint, then we will also know how "green" the resulting technologies are.
Who is that environmental evaluation model meant for?
Dr. phil. Lutz Stobbe: We are seeing increasing demand in the industry for the tools and expertise to carry out unbiased and precise calculations and achieve meaningfully comparable results. Companies are faced with environmental labels or other legal requirements like the European Eco-Design Directive that force them to prove the environmental properties of (new) products.
At the same time, this proof must be economically affordable. It would be far too costly for each company – especially small and medium-sized enterprises – to develop its own methods and procedures and to maintain test laboratories. The Competence Center for Resource-Conscious ICT is therefore intended to create a service that makes this expertise available and, through life cycle assessments, provides suggestions on how to do things even better. Life cycle assessments are an important step toward better eco-design and better products.
What is the project doing to make the leap from theoretical knowledge to practical applications in industry?
Dr. phil. Lutz Stobbe: The Fraunhofer Society stands for applied research and for very close cooperation with our industry and project partners. The concerns, questions, and challenges of our partners are taken up and, ideally, answered by our researchers. The structure for the "Green ICT @ FMD" project was designed in such a way that companies are involved at an early stage for reference projects.
Industry partners were invited to try out the expertise and testbeds and produce evaluations based on concrete examples. This approach is used to test whether the service that we intend to make available globally at a later date will actually work and be mature enough for use. In addition, there is a group of advisors consisting of industry representatives who have many years of experience in the field of life cycle assessments and can provide practical advice.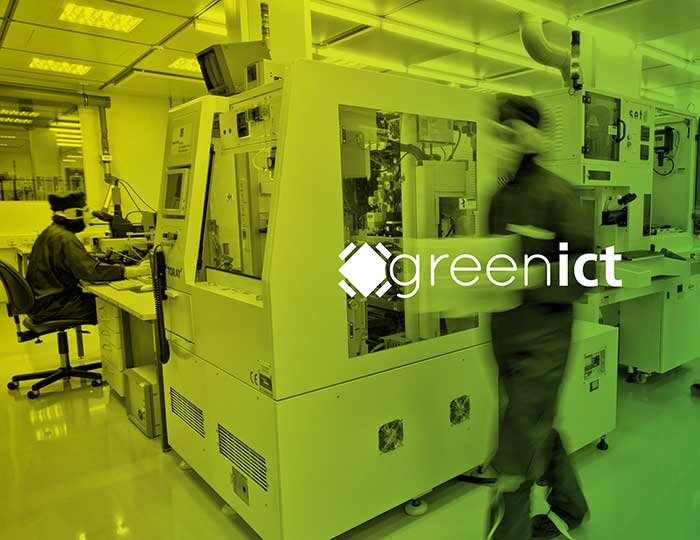 With your project partners, Fraunhofer IZM is analyzing and evaluating life cycle assessments for electronic products as well as ICT infrastructures in three areas: the sensor edge cloud, energy-saving communication infrastructures, and resource-optimized electronics production. What made you pick these three specific areas over others?
Dr. phil. Lutz Stobbe: Trying to approach the ICT field in general, we first looked at actual, immediate demand in Germany. Today's laptops, monitors, or televisions mostly come from Asia. But sensors, which are used in manufacturing, in machine engineering and automotive production or in logistics, often come from Germany and Europe.
Sensors are important sources of data, some of which operate autonomously and thus energy-efficiently, while at the same time possessing a certain intelligence (= Sensor Edge Cloud). Sensor data is then aggregated and (pre-)evaluated to provide first feedback loops, e.g. to operate an actuator. From our point of view, this topic is very much present in German manufacturing and the electronics industry. It was therefore obvious for us that we should focus on the Sensor Edge Cloud.
The second research focus concerns the communication infrastructure. We found that many end user devices still process and store data directly. But the fact is that much of this information could be computed much more efficiently in large data centers. Distances can be reduced and things aggregated there. This so-called virtualization requires very powerful communication networks. Experts estimate that more than 70 percent of all digital data is processed and stored in data centers today.
The third central research topic is resource-efficient electronics production. In the past, we focused mostly on the power consumption of devices. However, if you look at smaller electronic devices like smartphones, it is not their power consumption per se that represents the greatest environmental burden, but their manufacturing and the semiconductors built into them. To produce a typical modern smartphone, you have an environmental footprint of around 70 kg of CO2, compared to less than 10 kg of CO2 during actual use. In other words, over 80% of the environmental impact is due to the making of the product. This applies essentially to all ICT devices that operate with relatively little power (< 20 watts).
In large telecommunications systems and servers, for example, it is the memory chips that have an immense environmental impact. For one thing, you have to produce semiconductors at a large scale for them. And the production of semiconductors requires cleanrooms, special raw materials, chemicals, or technical gases, which in turn can release emissions that are harmful to our climate. Semiconductor production has a considerable environmental impact.
So, the project focuses on the start of the manufacturing chain, but where exactly does it start?
Dr. phil. Lutz Stobbe: That's right, we start at the beginning. In my Sustainable Networks and Computing working group, we have developed a 5-C method that we are now sharing with our colleagues in the Fraunhofer community.
It is essentially a set of guidelines on how to perform environmental assessments and how to optimize them later on. The 5-C guide supports both the ecological evaluation of a system and a targeted analysis of what could be improved.
First, the capacity of the device is determined: What level of performance and power are you going for? The idea here is to define the use case as precisely as possible to avoid oversized or unnecessarily powerful devices. A device should not be able to do more than it is supposed to do.
Then we check the local, environmental, and usage-related conditions that the system will be used in: What is its load profile? Is the product life cycle designed for one-off usage or for a period of five or ten years? Is it necessary to make the device modular, so that parts can be replaced as needed?
We are looking at the configuration in the third place: What are the main parts of the product, and how does the product interact with the infrastructure? For example, is there a link to a radio station? This configuration – system architecture – must and can be planned with some precision. For radio systems, we consider what link budget must be achieved in order to precisely determine the transmission power.
In the fourth place, we get to the product's components: hardware components that use electrical power and are made of certain raw materials, and software components that switch the system on and off and control its energy management.
The fifth C stands for control. On the one hand, we take this to mean operational controls and power management. On the other hand, we also ask our control question here: Which new application scenarios might we have to prepare for? We understand this as a type of sensitivity analysis.
The "Green ICT @ FMD" project is scheduled to run until 2026. What specific activities have already you already done and what is planned for the first year?
Dr. phil. Lutz Stobbe: The theme for our activities this year is knowledge transfer. We offered three workshops for all Fraunhofer colleagues at the beginning of this year, in which we spoke about the theory behind life cycle assessments. We also showed them how to carry out a basic environmental assessment for the manufacturing and the use phase of an ICT product: what data needs to be collected and compiled? Which challenges arise in the process? And what information is (not) available from databases? This advanced training opportunity has met with very great interest, and we got very good feedback.
Fraunhofer IZM also does the accompanying research for all other BMBF Green ICT projects. We are currently teaching project managers how to conduct an environmental potential analysis in a series of workshops.
We have also been commissioned to carry out an environmental potential analysis for Germany. To this end, we are to provide a 10-year outlook of how ICT is developing in Germany in terms of the market: what is the carbon footprint of ICT, starting with end devices such as smartphones and laptops through telecommunications networks and data centers to industrial applications?
Of great interest here is the relationship of the ecological footprint between the manufacturing process and the use phase. We want to find out where the focus actually lies. The goal is to show what could possibly be improved. To do this, we are modeling data and drawing on experience from past projects. In addition, we are in the process of creating various teaching and learning videos and setting up a student academy.
In addition, we are staying in close contact with our own specialist departments. There, we are starting to set up the test operations: what laboratory infrastructure is there, what components and materials are being worked with, how can measuring techniques and environmental assessments be meaningfully integrated there? In the medium term, we will be building up an environmental and life cycle assessment database at Fraunhofer to speed up future evaluations of processes, products, or technologies. The goal is to have reliable data to fall back on and not to have to reinvent the wheel every time.
More information about Green ICT events 2023!
---
This could be also interesting for you:
Subscribe to RealIZM Newsletter!
Get the latest insights into electronic-packaging and innovative technologies in microelectronics delivered