RealIZM blog series: "Insights from iCampµs Cottbus" – Part 1
Getting sensor data and being able to process it in real time for control, maintenance, and servicing purposes is increasingly important for Industry 4.0 applications. As part of the BMBF-funded ForTune project, Fraunhofer IPMS and Fraunhofer IZM and their partners at iCampus are developing a predictive maintenance toolbox that will enable existing plants to adopt this novel and trendy maintenance strategy by retrofitting their sensors with AI capabilities.
RealIZM has met up with Dr.-Ing. Torsten Mehlhorn, Innovation Manager at Fraunhofer IPMS, and Martin Lautsch, Research Associate at the Chair of Automation Technology at BTU Cottbus-Senftenberg, to speak about the use of multi-sensor technology, artificial intelligence, and data fusion in predictive maintenance, as used in the Fortune project of the Innovation Campus Electronics and Microsensorics Cottbus, or iCampµs Cottbus for short.
In our new RealIZM blog series "Insights from iCampµs Cottbus", we are taking a look at selected projects that Fraunhofer IZM is involved in. The RealIZM team had the opportunity to meet Dr.-Ing. Torsten Mehlhorn and Martin Lautsch. The iCampus representatives were out at the joint Fraunhofer booth at Nuremberg's Sensor+Test trade fair to showcase their progress with the ForTune project and exhibit a working demonstrator for predictive maintenance and condition monitoring.
AI-based edge computing helps acquire and consolidate data from complex signal sources, such as microphone and ultrasound arrays. Using the real-time data and some smart evaluation algorithms, the system can infer things about the state of e.g. production machines. A predictive maintenance strategy builds on exactly this type of knowledge. Due to the great flexibility of the toolbox developed on the ForTune project, even small and medium-sized companies should be able to make maintaining their plants more efficient and smarter with little effort.
The connected machine maintenance of the future: AI-supported condition monitoring
"With our demonstrator, we are showing the technology developed in the iCampµs project ForTune", Torsten Mehlhorn explains. "It is a multi-sensor system that companies can use to retrofit their machinery."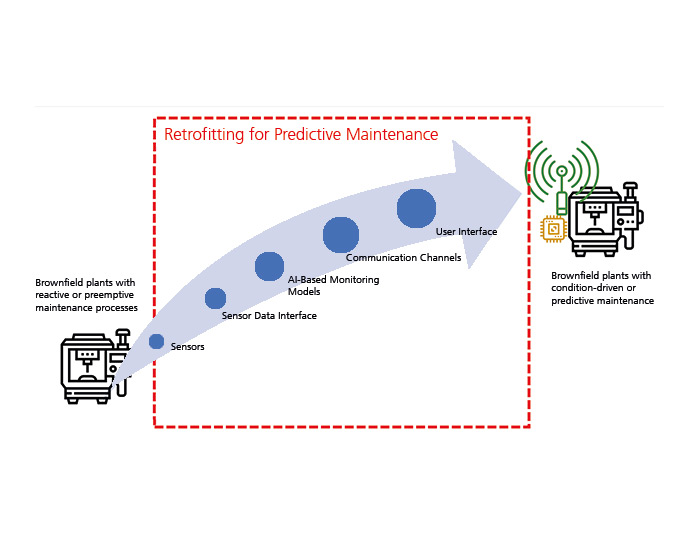 The retrofitting strategy to add predictive maintenance capabilities at a glance |
© BTU Cottbus-Senftenberg I Martin Lautsch
Until now, the maintenance of large machinery has been very time-consuming and tends to either follow a certain rhythm or be entirely reactive. Unplanned outages and downtime can be costly. "Our idea is to use multi-parameter measurements to detect information about changes in system behavior at an early stage", Martin Lautsch explains. "Instead of carrying out maintenance at fixed intervals or only when damage occurs, as was previously the case, we are using this technology to improve maintenance cycles and largely avoid unplanned production downtimes due to machine damage."
Close-up of the predictive maintenance demonstrator, | © iCampµs Cottbus
To demonstrate this, a mobile CNC machine was equipped with microsensors that record sound and acceleration data. This makes it possible to monitor even the smallest changes in the speed or rotary motion at the milling machine's spindle. In addition, acoustic changes can be used to draw conclusions about the condition of the actual milling head.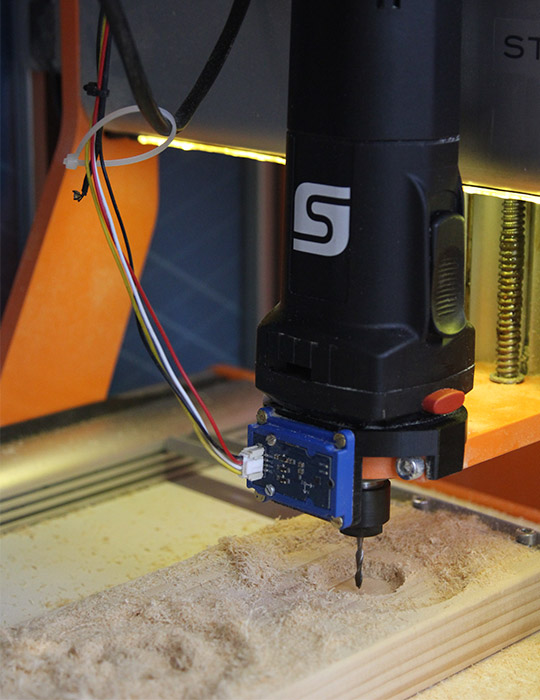 Left: Spindle with vibration sensor and microphone in housing | © Fraunhofer IZM
Right: Vibration sensors | © Fraunhofer IZM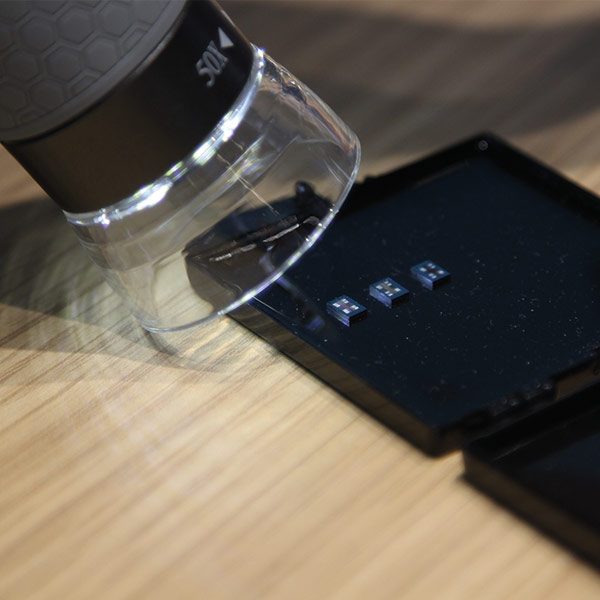 Left: Vibration sensors | © Fraunhofer IZM
Right: Demonstrator with AI-based condition prediction | © Fraunhofer IZM
In order to monitor the condition of the milling head – that is, whether it is still sharp or starting to get blunt – and detect potential faults and understand the degree of wear, all the data acquired is subjected to feature analysis. Machine learning (ML) techniques combined with artificial intelligence (AI) play an important role here. This enables the researchers to make precise, real-time statements about the condition of the machines.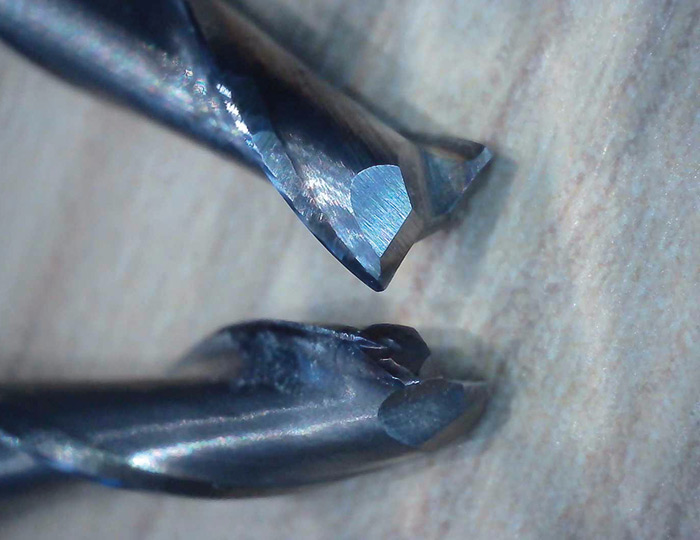 Milling heads in different states – worn (left) and new (right) | © BTU Cottbus-Senftenberg I Martin Lautsch
Interview with Martin Lautsch and Dr.-Ing. Torsten Mehlhorn at SENSOR+TEST 2023 | © Fraunhofer IZM
Fraunhofer IZM is part of the ForTune II research project. The experts of the Sensor Nodes & Embedded Microsystems group contribute their knowhow in circuit development, power supply via Power over Ethernet (PoE), and the industrial design of communication interfaces and housings.
FORTUNE Predictive Maintenance Multi-Sensor Condition Monitoring

Predictive Maintenance is a project of the iCampµs Cottbus and is being pursued to help advance the vision of an Industry 4.0. The goal is to improve maintenance cycles.
Advantages:
– Maintenance costs saved
– Minimal training required
– Modular principle enables the system's application on a wide variety of machines
– Close contact to researchers for support
iCampµs Cottbus: Building bridges between research and industry
Since 2019, iCampµs Cottbus has been researching and developing electronics and microsensor technology for various applications – from medical products to new radio standards or drone swarms. This research is conducted in close contact with industrial enterprises and in constant communication with each other.
"Fraunhofer institutes are founded with application-oriented research in mind. From our own experience, we know very well what a crucial role transfer processes can play in business and industry," Mehlhorn emphasizes, illustrating the close cooperation between researchers and industry representatives.
This is one of the most important factors for the iCampµs Cottbus. Interdisciplinarity benefits both sides and opens up new ways of solving problems. The iCampµs supports the development of and access to transfer projects for commercial enterprises. This gives them an opportunity to access material as well as knowhow from a range of areas. The projects focus on developing and researching novel electronic and optical microsystems in the fields of digitalization, process and environmental sensor technology, agriculture 4.0 as well as medicine and life science.
Six non-university research institutions are involved in the Innovation Campus for Electronics and Microsensorics.

Fraunhofer IPMS
Fraunhofer IZM
Leibniz-Institut für Höchstfrequenztechnik Ferdinand-Braun-Institut FBH
Leibniz-Institut für Innovative Mikroelektronik IHP
Thiem-Research GmbH
BTU Cottbus-Senftenberg

Supported by the Federal Ministry of Education and Research (BMBF)
iCampµs Cottbus Conference 2024: Sensors, MEMS & AI for Industry 4.0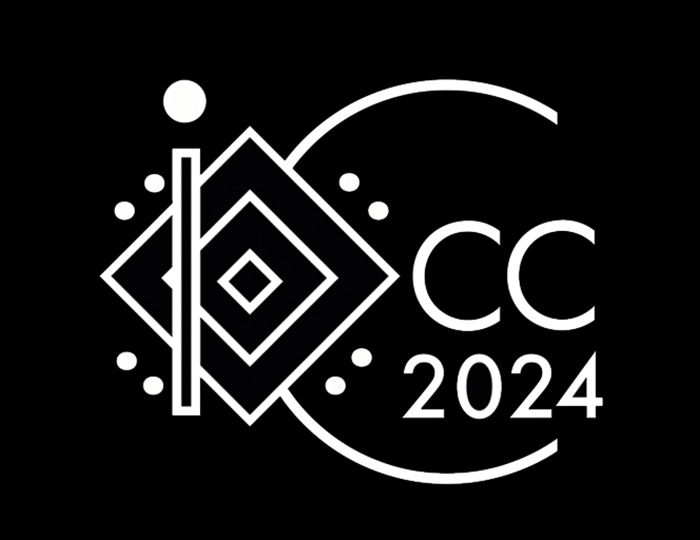 Left: Logo ICCC 2024 | © iCampµs Cottbus /
Right: Cover Image ICCC 2024 | © iCampµs Cottbus
"We will present an insight into our research and development activities at the iCampµs Cottbus Conference 2024, an event we are all looking forward to. It will be an excellent platform for experts from science and industry to get together and share insights about sensors, MEMS & AI for Industry 4.0, the environment, and energy, and to share ideas for solutions for the energy transition, the environment, production processes, diagnostics, and microelectronics," Dr.-Ing Torsten Mehlhorn believes.
The iCampµs Cottbus Conference (iCCC) will take place from May 14 to 16, 2024, in Cottbus and is funded by the BMBF. The transfer conference for innovations in science and industry will highlight new prospects and applications arising from powerful sensor technology, innovative microelectronics, and AI for Industry 4.0, a more modern power industry, and (tele)medicine. Keynote speakers will include Dr. Stefan Finkbeiner, CEO of Bosch Sensortec GmbH, Dr. Holger Becker, member of the German Bundestag and trained physicist, and Professor Roland Eils, founding director of the Berlin Institute for Health Research at the Charité.
---
This could be interesting for you:
---
Subscribe to RealIZM Newsletter!
Get the latest insights into electronic-packaging and innovative technologies in microelectronics deliver