The Textile Prototyping Lab (TPL) is the first interdisciplinary research lab for high-tech textiles and textile-integrated electronics. In the autumn of 2021, the innovation lab at Fraunhofer IZM in Berlin-Wedding was added to the laboratory space at the Berlin Weißensee School of Art.
Textile-integrated electronics opens up completely new applications for architecture, medicine, and sports, but before a true high-tech textile is ready for market, one important milestone is the production of an e-textile prototype that can be tested to see how the fabric design and the electronics work with each other.
RealIZM has met Fraunhofer IZM's Sigrid Rotzler, head of the TPL Innovation Lab at IZM, to hear more about her experiences from the first year of the TPL, initial project ideas, and new textile electronics prototypes.
One year of the Textile Prototyping Lab
Visitors to the TPL immediately realize that they have come to a hive of creativity and collaboration: Between machines loaded with colorful spools of yarn, there are modular workstations that can be quickly resized for individual or group work as needed. Partition walls that separate the space into individual areas are brimming with post-its and workshop memos, filled with ideas about new functions to be added by integrating electronic components into a product.

The Textile Prototyping Lab offers modular workstations, areas for collaborative project work, textile and electronics prototyping machines, and consulting on textile-integrated electronics.
The TPL was launched in 2017 as a project of IZM with four other founding partners – The Weißensee School of Art, Textile Research Institute Thuringia-Vogtland, the Saxon Textile Research institute, and the thinktank and make-tank Prototypes for Europe. In practice, this means two lab sites in the north of Berlin where the design expertise of the Weißensee School of Art can now come together with the knowhow of renowned microelectronics experts.
Workshops focusing on e-textiles and functional textiles are held regularly at the TPL Innovation Lab at IZM. As part of the EU project shemakes, for example, students from KHB and HTW Berlin were invited to several multi-day workshops where they could use a spinning machine to learn how to make threads and yarns to turn into textile samples.
"The prototyping spinning machine from Studio Hilo is something special. It was developed by a former KHB student, who also had a significant role in the TPL project as part of her master's dissertation. Prototyping machines like this are currently still lacking in many areas of the textile chain, so we decided to build one ourselves," explains Sigrid Rotzler. Other students could implement their own projects with integrated electronics in an e-textile workshop. The TPL enjoys excellent feedback after the workshops, and many of the participants later come back to pursue their own project ideas in the Innovation Lab.

A big thank you to Weißensee School of Art for allowing us to publish the video about the vision and idea behind the TLP on RealIZM, using the Spuncover project as an example. Directed by Random Access Studios Berlin.
The shemakes project also helped a young entrepreneur try out her idea to develop an innovative bra without underwires for large sizes. "The challenge for her was to have the bra provide enough support, while keeping it comfortable and good-looking. Her solution was a seamless shape-knit bra which does all of these jobs by having different zones with different knitted bindings," says Rotzler.
Successful events like this are positive signals that the TPL concept is catching on. The TPL team also receives inquiries from industry about collaborations and joint research projects about the smart and technical textiles of the future. Thanks to its collaborative approach, which combines design expertise and technology knowhow at a high level, the TPL is particularly well positioned when it comes to creating innovative and functionally high-quality textiles and e-textiles to match the clients' requirements.
Interdisciplinary teaching: Technology meets textile design
Sharing experience plays a central role in the TPL project. This happens in the form of on-site workshops, even if digital event formats were also used during the pandemic. At one online event, again part of the shemakes project, thirteen women presented their innovative ideas and projects in the textile sector and shared insights into their different textile career paths.
At the invitation of the Austrian Fashion Association, Sigrid Rotzler joined Essi-Johanna Glomb, textile designer at KHB, in Vienna in September for the Creative Industries Exchange Fashion. They met representatives of other textile labs from Italy and France that the TPL is connected with through the Future Textile Net. The event allowed the two researchers to speak to their peers about opportunities for collaboration, networking, and shared resources in the development of sustainable, innovative textiles.
At the same time, the TPL is set to become a space for inter-university and interdisciplinary textile teaching for Berlin's universities. The laboratories at IZM and KHB are meant to offer Berlin textile students and those from related fields an innovative working environment. Access to the machines at the TPL is a unique opportunity for students to learn about different technologies and see them work into practice. It lets them test process chains and explore the interfaces between textile design, technology, and science.
The Innovation Lab is fully equipped with machines for embroidery, knitting, spinning, and other (textile) technologies. Embroidery is an ideal process for equipping textiles with electronic or heat-conducting functions, making it a good choice for e-textile prototyping. Another advantage is the ability to combine decorative elements with added functions. Knitting is another fabric technology that the lab is focused on, and its digital knitting machine can produce textile prototypes for testing at high speeds.
Sigrid Rotzler is particularly pleased that the e-textile construction kit developed by IZM researchers specifically for the TPL has already been used several times. It can be used to create reliable and highly functional e-textile prototypes. The prototyping kit consists of a series of electronic modules, LEDs, and sensors that can be embroidered by hand or by machine.

With the modules from the prototyping kit, diverse e-textiles are created.
Prototyping for high-tech textiles
At TPL, functional e-textiles are manufactured as one-off pieces. The focus of the work is on the interdisciplinary development process and the transfer of knowledge. "Our goal is to produce visually and functionally coherent e-textile prototypes that meet the high standards of our partners, whether from industry, research, or academia, in terms of both design and electronic functionality," says Rotzler.
The E:Space project (in collaboration with KHB), which is funded by the WKD (Wissenschaft Kunst Design) network of the Fraunhofer Gesellschaft, takes full advantage of the TPL's capabilities. In several workshops with internal and external experts, an innovative e-textile application was defined for "New Work", i.e. the changing world of work. Using design thinking methods, topics like "new routines", "adaptive places", or "changeable objects" were examined and product ideas were outlined for smart textiles and their possible applications. In the final step, one application was chosen for further work: an interactive laptop pad designed to support and improve communication between colleagues in new, hybrid, spatially separated work environments. This is currently being implemented at TPL as a functional demonstrator and is expected to be presented at an exclusive event at TPL in early 2023.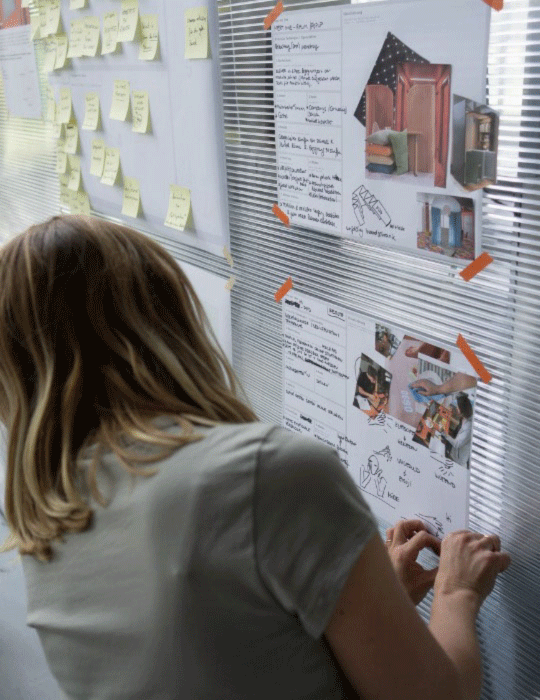 In interactive workshops, scientists from IZM and KHB work together with partners from industry, SMEs, artists, students and start-ups to develop textile visions with electronic functionalities in the TPL.
When asked what the TPL team has planned for its second year, Rotzler explains: "In any case, there will be more workshops, and we will enrich and deepen our knowledge of how to use the machines. We are also networking even more with other textile labs at the European level and sharing our ideas and experiences. In addition, of course, there will be more innovative textile and e-textile projects coming from industry commissions."
Write a comment so that other readers can benefit from your experience:
What would you consider important for a successful e-textile prototype?
Project Textile Prototyping Lab was financed until the end of its term in April 2022 by futureTEX, which won the program "Twenty20 – Partnership for Innovation" of the Federal Ministry of Education and Research.

The futureTEX project consortium aims to become the leader in the implementation of the fourth industrial revolution in textile engineering and the textile industry, setting an example by building the most advanced textile industrial value network in Europe by 2030.

With the development of a future model, work is progressing with partners from science and industry on the main research areas: resource efficiency and the circular economy, customer-integrated flexible value chains, the textile products of the future, knowledge and innovation management, as well as work organization and the means to attract and develop young talent.

The consortium currently comprises over 300 partners, 70 percent of which hail from industry. The futureTEX project was awarded a prize in the "Landmark" competition in the Land of Ideas 2016.
Images: Textile Prototyping Lab
---
This could be also interesting for you:
Subscribe to RealIZM Newsletter!
Get the latest insights into electronic-packaging and innovative technologies in microelectronics delivered every 3 weeks to your inbox.